So don't spend more than this as you won't recoup the money if you sell it once finished. If you use a main contractor for the whole project, you'll be in a good position to secure an in-depth quote with some cost certainty, too.
But managing the project yourself means you'll be saving the profit margin that the contractor is looking to make, plus you can negotiate directly with trades and suppliers yourself. However, bear in mind a building professional will have good contacts established and pre-negotiated discounts with suppliers already in place.
Doing things yourself takes time, too, and if you make mistakes you'll be the one paying to put them right.  Over the following pages I've pulled together some successful renovation projects completed by Build It readers.
For more inspiration, read our reader home renovation projects. 
Reinstating period charm for £110,000
Property style: Victorian terrace Property cost: £285,000 Bought: 2015 House size: 139m2 Project cost: £110,000 Project cost per m2: £791 Building work took: 17 months Current value: £650,000
Nicola O'Mara and John Merriman have renovated this three-bedroom Victorian cottage to bring it back to its former glory and give them an elegant new home. It had been empty for six years and required a significant amount of work. "Everything from the layout through to damp proofing needed considering," says Nicola. "It felt like a damp cave, dripping water." But their well-planned overhaul has more than doubled the property's value.
Building materials £15,000 Building labour £50,000 Plumbing £8,000 Electrics £5,000 Windows £5,000 Bathrooms £10,000 Kitchen £5,000 Decoration £4,000 Fees and miscellaneous £8,000
Mortgages and finance options
Few people have the cash available to fund a major renovation solely through savings, or at least not enough to see them through the whole project. However, there are various options available to make sure you have the money when you need it.
The right route for you will depend on your personal circumstances, if the property is currently habitable and whether you've already got a mortgage on an existing house. Here are the main contenders:
Re-mortgage You can free up equity in an existing house by borrowing against you mortgage. How much you can secure will depend on your personal circumstances, but it's generally a cheaper option than bridging finance.
Bridging loans These are easier to arrange than a mortgage, but the interest due tends to be high, so you'll want to be in a position to be able to pay it back as quickly as possible.
Renovation mortgage These generally allow funds to be released in stages to cover different key phases of your project. Some offer advance payments to improve your cash flow.
Extended overdrafts, credit cards & personal loans These allow you to borrow cash quickly, but you'll pay a premium for the privilege. A potential benefit, however, is that credit cards offer protection if products or work aren't up to scratch.
Bungalow update for £275,000
Property style: 1960s bungalow Property cost: £720,500 Bought: 2016 House size: 271m2 Project cost: £275,000 Project cost per m2: £1,015 Building work took: Six months Current value: £1,300,000
The high-end contemporary home of Mark and Stephanie Fernandez is completely unrecognisable from the dated bungalow they originally bought. The layout has been totally reworked, plus a new extension and a loft conversion have been added to maximise space. Mark kept finances under control with detailed spreadsheets to ensure a balanced cashflow – this was especially important as the family lived in the property while works took place.

Fees (architect, surveyor, planning and engineer) £12,000 Foundations & drainage £11,000
External walls & roof £65,000 Windows & doors £26,000 Internal walls & stairs £25,500 Plumbing, heating, electrics & AV/IT £39,000 Woodburning stove £2,500 Kitchen, bathrooms & decorating £45,000 Flooring £9,500 External works & automated gates £39,500
Quick guide to hidden costs
Don't forget that there are some extra things you're required to pay for with a renovation project on top of simply the cost of updating the property. Here are some key elements you're likely to need to budget for:
Surveys & planning application It's highly recommended to get a professional in to investigate the condition of the building before you buy – the more probing needed, the higher the cost. If you need to apply to your local council for permission to work on the property, that will come with a fee, too.
Stamp duty & legal fees The price of buying a building comes to more than simply the value of the dwelling. Firstly, there are the solicitor costs involved. Stamp duty is another. If you already own a property and are buying a second to work on, even if you're intending to move into it once complete, you will have to pay a higher stamp duty because it's an additional dwelling. But if you sell your former residence in 36 months you'll be eligible for a refund.
Rent If you've sold your previous home to fund your renovation project, it's unlikely that you'll be able to live in your recently purchased home while works
are being done. So don't forget to price up the cost of renting before you press ahead.
Finance interest If you borrow money to pay for the major works on a building, remember that you'll be paying interest back on the loan, so don't forget
to factor that into your overall project budget.
VAT Self builds are exempt from paying VAT, but you'll need to pay the usual 20% on most renovations.
Contingency No matter how prepared you are when pricing up the elements of your major home improvement venture, it's absolutely crucial to have money put aside in case something unexpected crops up – which it almost always does. At least 15% of your overall budget is prudent on a renovation, but you may need more on a heritage home.
Energy efficient renovation completed for £310,000
Property style: Victorian Property cost: £1.2m Bought: 2013 House size: 232m2 Project cost: £310,000 Project cost per m2: £1,336 Building work took: 48 weeks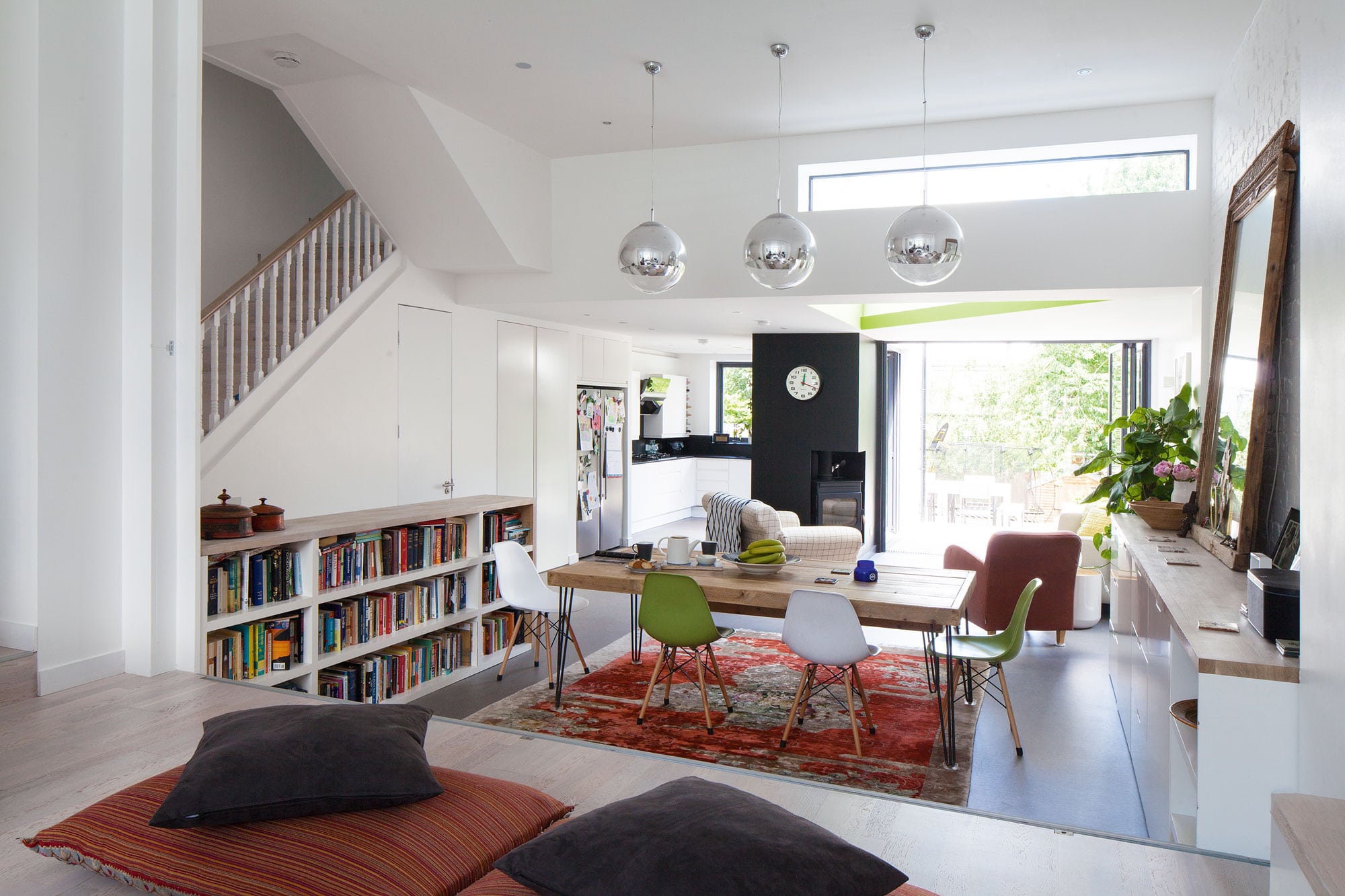 This late Victorian terrace was previously a collection of flats, so owners George and Rosie Woods needed to drastically rethink the layout to turn it into the family home they were after. "We wanted a bright and roomy house," says Rosie. "We followed the suggestions of an architect and a local estate agent, particularly paying close attention to creating a nice kitchen, bathrooms and a large master bedroom."
Preliminaries £20,000 Strip out & repairs to building £13,000 Structural works £36,000 Glazing, external insulation & render £63,000 Interior dry-lining & plastering £21,000 External works £7,000 Finishes & kitchen £41,000 Equipment £36,000 Joinery & fitted furniture £38,000 Plumbing & electrics £35,000
Bigger and better for £425,000
Property style: 20th century semi-detached Property cost: £795,000 Bought: 2015 House size: 230m2 Project cost: £425,000 Project cost per m2: £1,848 Building work took: 18 months Current value: £1,250,000
Judith and Struan Mackenzie consulted an architect to establish what work was going to be involved in transforming this property into their dream home before making an offer to buy.
Certain that the project was worthwhile, the couple lived in the house for nine months to get an idea for what they wanted before changing it.
The project saw walls and a chimney stack removed, the loft converted and the heating system completely changed, amongst other things.
Architect, structural engineer, planning £12,000 Builders (plumbing, electrical,
roofing & painting) £300,000 Bathrooms £10,000 Kitchen £20,000 Windows & glazed doors £27,000 Tiles £7,000 Carpets £7,000 Shutters & blinds £5,000 Light fittings £4,000 Storage & rental of property £33,000
Farmstead overhaul for £560,600
Property style: Historic farm buildings Property cost: £1,015,000 Bought: 2011 House size: 687m2 Project cost: £560,600 Project cost per m2: £828 Building work took: Three years
Keen to invest their inheritance wisely, Lou and Shaun Renwick decided to buy a collection of sorry-looking buildings that were part of a dilapidated farm. "We were determined to restore it," says Shaun. "We were working to a very strict budget, though, so it was a huge gamble." The work was extensive – timber barn structures were replaced, RSJ beams fitted, floors dug out and asbestos removed. "It was a major juggling act," says Lou.
Planning, reports & survey fees £33,000 Windows & doors £36,800 Electrics (including digging trenches & laying new cables) £19,300 Lighting plans & fittings £14,000 Wood fired boiler, plumbing & heating system £51,000 Kitchen £40,000 Conservation rooflights & roof vents £10,000 Bathroom fittings & tiles £16,500 Flooring £12,000 Labour £328,000
cOMPLETE RENOVATION GUIDE Part 3: Designing a house renovation