According to a 2022 survey by the National Custom and Self Build Association (NaCSBA), timber frame accounts for 31.8% of self build projects. That puts it in a firm second place, only fractionally behind masonry (35.2%) – and the gap looks to be narrowing every year.
Two main systems fall into the timber frame bracket. Closed panel is the most prevalent option, with the insulation (and sometimes additional components, such as windows) pre-fitted into storey-height panels in the factory. This minimises the amount of work required on site, and provides a strong guarantee that the designed performance will be delivered in your finished home.
The alternative is open panel, where one face of the structural walls is left open so insulation can be installed on site. In both cases, the timber frame kit will also include the floor and roof structures, internal load bearing walls etc.
So, what's really involved when constructing a new home with timber frame, and is it the right structural system for you? We take a look at the advantages, considerations and costs of timber frame construction.
Who Can Design My Timber Frame Home?
Panelised timber systems are right up there with masonry as one of the leading structural options. So any architect or house designer worth their salt should be familiar with conventional framing and capable of coming up with a viable scheme that takes advantage of its innate qualities.
That said, your timber frame kit supplier will need to translate the approved plans into a buildable reality – and will often take over responsibility for the structural design and engineering.
So the process is fairly collaborative. Many framing companies offer an in-house bespoke design service for the entire scheme.
Looking for architects, designers or structural system suppliers for your self build project? Browse Build It's Company Directory
What Kind of House Can I Build with Timber Frame?
Timber frame is a truly flexible building method – allowing you to create a bespoke home in pretty much any style that's totally tailored to your needs, design tastes, budget and the demands of your plot (or the whims of the planners).
You can even mix the panels with other structural materials, such as steel or glulam (an engineered, laminated timber beam), to deliver features that can't be cost-effectively achieved with standard framing alone.
Meet timber frame suppliers in person at Build It Live
Once you have a plot, the next key decision is which build route is best for your project. Timber frame, ICF, brick, masonry, hemp, SIPs, CLT or steel frame? All have their benefits and downsides. At Build It Live you can speak to experts representing each of the main build systems, so you can choose the best option for you.
Watch live presentations and get your questions answered on topics such as:
Planning a timber frame build
Why building in structural timber delivers the self build dream
Getting maximum value from your timber frame build
Building a sustainable home, and more!
Build It Live takes place three times a year in Kent, Oxfordshire and Exeter. The next show will be on 24th and 25th February 2024, in Maidstone, Kent. Claim a pair of free tickets today and start planning your visit.
How is a Timber House Constructed?
The overwhelming majority of shells are produced off-site in a factory – although the extent of prefabrication differs according to the complexity of the project and whether you opt for open or closed panel framing. Large parts of the process are computer-controlled, so you can expect accuracy and quality as standard.
The core part of a timber frame is the load-bearing, storey-height walls. These are lightweight engineered panels, each comprising a network of studs encased on either side with a wood-based sheathing, such as oriented strandboard (OSB).
The gaps between the studs are filled with insulation to create a highly-efficient structural panel – and excellent levels of energy performance can be achieved with relatively slim walls, which can help to optimise internal floorspace.
More Ideas: Inspiring Prefab Self Builds: the Best UK Offsite-Manufactured Homes
CASE STUDY Bespoke timber bungalow
Find out how Scandia-Hus drew on the serene surroundings to design and build a stylish contemporary home in Kent.
| | |
| --- | --- |
| OWNERS | Paul & Pat Lucas |
| PROJECT | Self Build |
| LOCATION | Kent |
| SIZE | 163.5m² |
| TIMBER FRAME COST  | £193,000 |
| SUPPLIER | Scandia-Hus |
When Paul and Pat Lucas discovered this tranquil wooded site in Kent, they knew they had to buy it. Having taken on numerous DIY projects in the past, they were confident they could take on the challenge of running a self build scheme. After deciding on the timber frame construction method, they eventually got in touch with Scandia-Hus.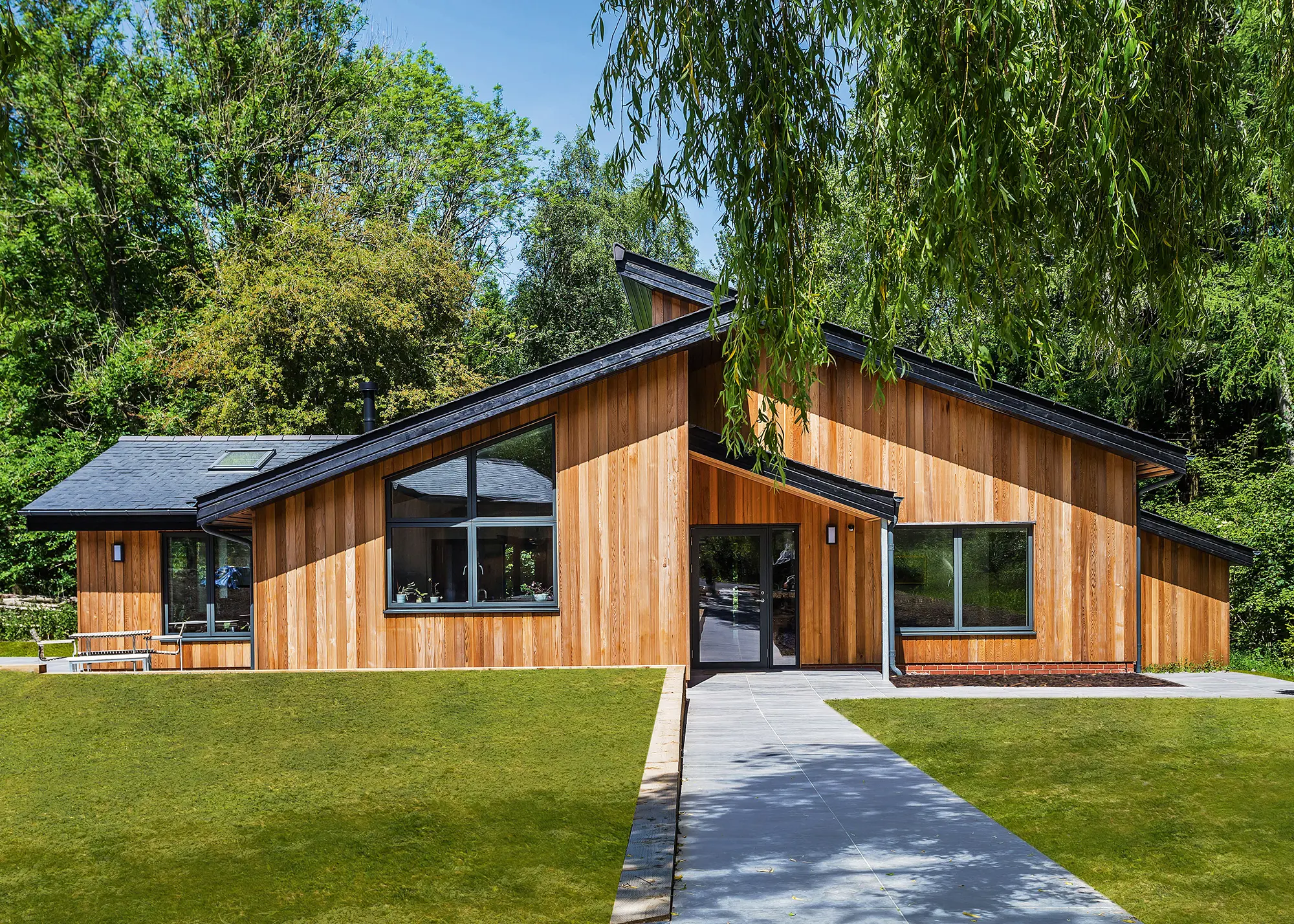 Though Paul and Pat were initially against the idea of constructing a bungalow, it transpired that a one-storey property was in fact required due to planning restrictions – plus it would make the best use of the floor space. So, they went ahead with the plan to create a unique bungalow with an unusual roof design and high ceilings that remained within the local council's policy.
The project took just over a year to reach completion and was completed in 2019. Their three-bedroom house sits sympathetically within its leafy surroundings – an aspect that was very important to the couple when they developed the initial design.
Externally, cedar cladding complements the environment and provides a modern aesthetic, while bespoke glazing matches the grey colour of the Spanish slates on the roof. The internal layout features an open-plan living area with an attractive vaulted ceiling.
What Do I Get in a Timber Frame Package?
In addition to the load-bearing wall panels, your frame supplier will manufacture the internal partitions, floor and ceiling joists, roof trusses etc. It will also provide all the components required to erect the shell and make it weathertight (such as breather membranes, sealing tape and – depending on the suite you've selected – insulation).
For this reason, many companies in the sector offer their frames as design and build packages – and a large number can even take care of follow-on parts of the project, right up to completion if you desire.
You can expect an eight to 12 week lead-time for your frame to be manufactured. Once ready, it will be delivered to site in lorry loads.
Most suppliers offer a design and build service, so you can use their team to take the shell to weathertight stage (or even through to later phases in the process, right up to completion). Alternatively, you can often select your own general builder to tackle the job.
Essential Advice: Design & Build: Package Homes Explained
What Isn't Included in a Timber Frame Package?
It's extremely rare for timber frame suppliers – even the turnkey design and build firms – to offer groundworks and foundations as part of their packages. The most they're likely to do is recommend a partner firm they've worked with in your area.
This is important, because it becomes your responsibility to get the foundations and floor slab perfectly square and level within the tolerances your frame manufacturer demands. If you don't get it right, they won't put up the shell – and you'll face delays for remedial works.
Should I Opt for Open or Closed Panel?
In terms of the house you'll end up with, there's little difference between these systems. Open panel timber frames are manufactured with the internal side of the walling element unsheathed – so insulation, service runs etc are all taken care of on site.
This option should translate into a fairly short lead time for the kit, but it requires more attention to detail and labour on site than its closed panel cousin (which involves a greater degree of prefabrication).
With the latter route the insulation is usually pre-fitted, service channels routed and – in some cases – elements such as windows, doors and plaster are already in place. This has obvious benefits for build speeds, but does mean you need to nail down more of the detail of your design prior to manufacture.
CASE STUDY Spacious timber frame family home
Find out how this couple reached their dream of a bespoke family with the help of a Potton timber frame structure.
| | |
| --- | --- |
| OWNERS | Alan & Nicola Burton |
| PROJECT | Self Build |
| LOCATION | Bedfordshire |
| SIZE | 279m² |
| TIMBER FRAME COST | £77,500 |
| SUPPLIER | Potton |
Set just 100 metres away from their previous home and located on a Bedfordshire village boundary, Alan and Nicola Burton self built a brand new three-storey timber frame dwelling with the help of a Potton pre-insulated structure.
The couple visited Potton's show village and were impressed with the variety of house designs, the quality of the building systems and the customer service they received. "Potton were brilliant," says Alan. "From the first meeting they were clear in their communication, really helpful and approachable. We liked the design and build formula, and they were just down the road."
Clad in Ivanhoe Westminster multicoloured heritage brick from Hanson and silicone render, the three-storey home is enhanced with intersecting gables and a small single-storey volume to the rear.
How Energy Efficient is a Timber Frame Home?
This will of course depend on the specification you opt for, but a standard timber frame built with 140mm-thick wall panels will easily get through the Building Regs.
The prefabrication process means good airtightness is pretty much guaranteed – and if you opt for higher-quality, thicker or additional insulation (such as an internal layer beneath the plasterboard) you can achieve excellent thermal performance that rivals any other system. What's more, providing it's responsibly sourced, timber is a carbon-neutral, renewable product – so it's naturally sustainable.
The only downside of this system in the efficiency stakes is that it's relatively lightweight; so it doesn't offer much thermal mass (the ability to absorb heat from the sun's rays and release it back into the house as internal temperatures drop).
Good thermal mass makes for a predictable heating cycle, which can help to save money on energy bills. You can make up some of the gap versus masonry by opting for features such as concrete ground floors.
EXPERT VIEW Insulating a timber frame home
Simon Orrells from Frame Technologies explains the ins and outs of getting the performance you want from your timber frame project:
Building with structurally insulated timber frame panel technology delivers exceptional energy-efficient building envelopes, keeping bills low for the lifetime of your home.
The most common timber frame insulation types in the UK are polyurethane insulation, which gives thin overall wall profiles, and natural insulation options like glasswool or wood fibre. Other options include sheepswool, waste paper or plant-based products made from jute and hemp. Natural insulations can be more expensive, so consider using mainstream natural products rather than novelty ones.
Choosing the right insulation is important to achieve best thermal performance and moisture control. Barn conversions, pre-existing structures and extensions have different needs to new buildings. So, consider the insulating material's breathability and how it will interact with the timber frame system. And remember, the thicker the insulation, the smaller your valuable floor area will be in the finished home.
Your timber frame supplier can advise on the suitability and benefits of different insulations depending on budget, U-values required and whether you're looking to build to Passivhaus standard. They will have an in-depth understanding of current costs and availability.
Breathable timber frames using glasswool or other natural insulations can still achieve low U-values, but there will be an increased wall thickness. The latest twin stud systems achieving incredible 0.1 U-values with minimal or no thermal bridging.
Your timber frame supplier can also discuss whether insulation solutions will comply with any Standard Assessment Procedure (SAP) requirements.
Simon Orrells is managing director of Frame Technologies. He has spent over 30 years advising on energy-efficient timber frame construction, and developed the TechVantage Systems, which are at the forefront of structurally insulated panel technology.
What's it Like to Live in a Timber Home?
Even in a standard timber frame home, running costs should be affordable – and impressive eco standards such as Passivhaus, which would result in minimal heating requirement, are well within reach. You'll also enjoy a flexible living space – open plans are easy to achieve, so you can simply partition off rooms with non load-bearing stud walls, which should allow for future alteration.
Soundproofing more than surpasses Building Regulations out of the box, but there's no doubt that masonry systems have the edge here due to their heavyweight construction. You can upgrade with methods such as using double-skin plasterboard – but this will obviously add to your build budget.
Another consideration is that timber stud walls aren't solid – so you can only hang heavy items such as kitchen cabinets where there's a corresponding noggin or stud. It's important to bear this in mind during the design phases.
How Long Does it Take to Erect a Timber Frame House?
We've already mentioned that prefab techniques allow for a quick route to a robust structural shell. This is because – whether you choose open or closed panels – your site team will be erecting vast swathes of walling in one go; as opposed to bedding in individual bricks and blocks.
The labour requirement is also drastically reduced, which means less time and less resource is needed on site. The frame for a typical three-bedroom home can easily be taken to weathertight stage in under a week.
The panels are lightweight and easy to manoeuvre – and some can even be man-handled into position. Large or heavy elements (such as closed panels with windows already inserted) will be craned into place; so bear the plant hire cost in mind.
Your new home's walls and roof will be left covered in a waterproof membrane, which means work on finishing the shell can proceed both inside and out simultaneously. And because it's a dry, ultra-fast system, you can work in wet conditions.
More Advice: Prefab Homes: What Are the Benefits of a Prefabricated Self Build?
Can I Change a Timber House Design On-Site?
While it is possible to alter your plans as the build progresses, it's not generally recommended with any construction system. This will inevitably add delay and extra cost to your scheme – especially if your changes require structural calculations.
A far better option is to put as much time and effort into the design stages as possible, right down to choosing the location of switches and sockets.
CASE STUDY Bespoke timber frame bungalow
Find out how Frame Technologies took this family's idea for an ultra-efficient dwelling and turned it into a reality.
| | |
| --- | --- |
| OWNERS | Suzanne & Steve Richardson |
| PROJECT | Self Build |
| LOCATION | Suffolk |
| SIZE | 170m² |
| PROJECT COST | £350,000 |
| SUPPLIER | Frame Technologies |
When Steve and Suzanne Richardson moved back to the UK after living in the south of France, they had a struggle finding any low energy properties on the market. "We only wanted enough space to live comfortably, plus a big garden with countryside views." So, the pair soon switched their strategy and turned their attention to building plots instead.
After finding the perfect plot in the Suffolk countryside, the couple enlisted Cocoon Architects to bring their design ideas to life, and Frame Technologies to erect their efficient timber frame shell. The couple chose Frame Technologies' Tech Vantage T system, which comprises two 90mm studs sandwiched with glass wool insulation for ultimate efficiency.
The entirety of the house is clad in cedar shingles, which were imported from Canada and laid by Suzanne and her brother, John. The triple-glazed windows and sliding glass doors play a vital role in harnessing the sun's free heat to warm the house, without allowing heat to escape from within.
How Much Does it Cost to Build a Timber Frame Home?
Budgets for timber frame construction are comparable to masonry – hence why the two are head and shoulders above the alternatives in terms of popularity. Whether you're building a timber frame home on tight budget or creating a high-end house, one advantage of this system is that it provides a greater degree of cost certainty.
This is because you'll be signing up to a fixed price package for the materials supply and, in many cases, erection of your home's structural shell. As the frame will be prefabricated to your chosen design, you'll be expected to pay for it relatively early in the process.
A typical arrangement might be a 25% deposit to enable manufacture, with the rest due in instalments up to delivery – plus installation costs once it's on site. Lenders specialising in self-build are fully aware of the cashflow needs on this kind of project – but it's important to make sure your staged mortgage payments reflect the capital outlay. You can refer to the case studies within this article to see a realistic building cost for a bespoke timber frame project.
Learn More: 10 Ways to Maximise Your Self Build Budget
This article was originally published in March 2022 and has been updated in November 2023. Additional content by Rebecca Foster.